Planning
Calendars, rotas and service planning are often central to the running of your church. ChurchBuilder will help you with these and other planning and organisational tasks.   
Rota Builder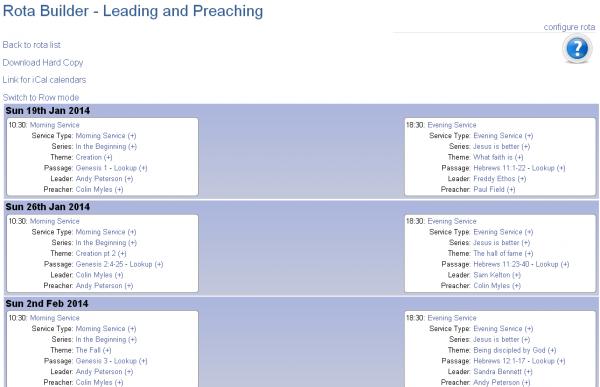 Flexible rotas with automatic reminders and online swaps.
Create any number of rotas

add people individually or as teams

receive automatic duty reminders by email, text and via the app

online swaps with automatic rota update and rota owner email notification

instant clash notification across rotas

print out hard copies of rotas for those not online

individuals can "volunteer" or mark themselves "unavailable" for dates

draft feature for putting the rota together

proxy feature for marking in volunteer/unavailable dates for those not online

bespoke permissions to control who can see and amend each rota

sync rota with your home calendar or phone

view rota in columns or rows
Calendar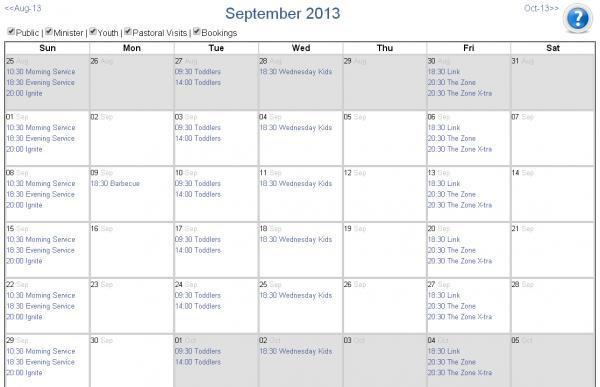 Flexible calendars with resource booking and activity rota information.
create layers such as "public", "members", "staff" to tailor content to viewers

set bespoke permissions to control access to each layer

schedule or repeat regular entries

link entries to activities to provide rota information for that date

layers can be synced with online calendars on your computer or mobile device

two way sync of layers available on Apple devices for your staff team

resource booking per activity, also viewable on the Resource Booking Calendar (see separate feature information)

set dates relative to Easter

viewable on the mobile app
Resource Booking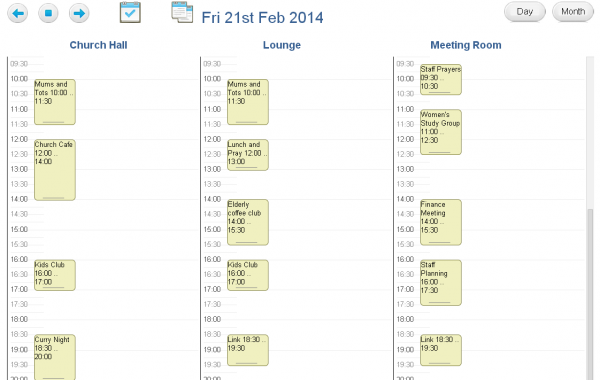 Book resources online for both church use and private hire.
add rooms, equipment and other resources to your site

see a resource by resource view of bookings on the main calendar

group resources for ease of management

choose who can make unconfirmed or confirmed bookings

instant clash notifications if 2 parties try to book one resource

automatic booking of regular church activities to guarantee availability
Activity Builder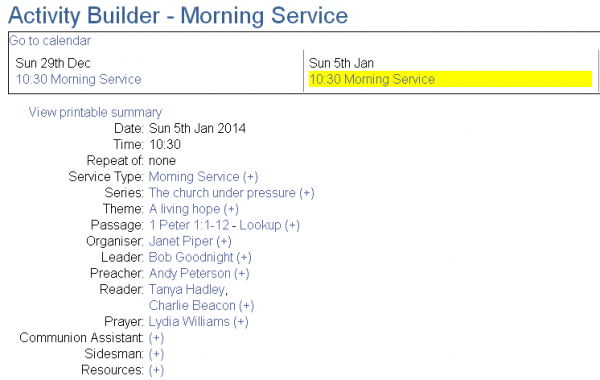 Click on an activity in the calendar to get a view of all the rota information for that date.
Activity Builder is reached by clicking on an activity in the calendar

information is combined from different rotas and displayed for the activity

E.g. clicking on the morning service for a given date will show you all the different people serving during the service that morning (leader, reader, musicians, refreshments etc), even if their individual rotas are separate
information shown here is also viewable on rotas and the resource booking calendar

information shown here is automatically generated from the rotas or vice versa, no need for you to fill it in twice

For services, you will find "Service Builder" at the bottom of your Activity Builder page.
Service Planning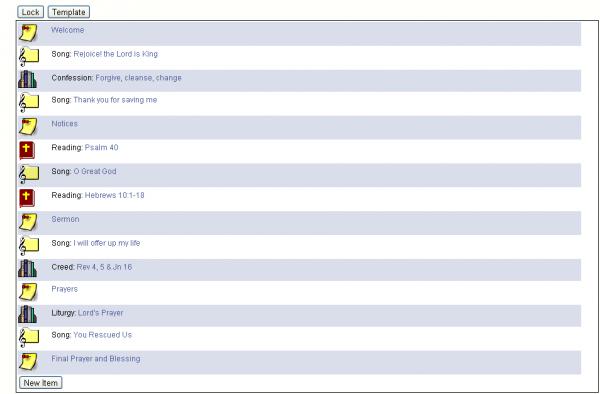 Put together services online, generate service plans, orders of service and VP slides.
Create service templates e.g. "morning service" to give you a quick starting point for your planning

Collaborate remotely with other staff/members with changes being made live

Store song words and sheet music

store liturgy (prayers, creeds, confessions etc)

print a service plan summary

generate an order of service sheet

information automatically pulled from rotas and added to your service sheet

print out large copies for the visually impaired, or email them out for use on a mobile device in church

export to video projector slides

export to video projector packages such as ProPresenter, Zionworx, Easy Worship, Words of Worship, OpenLP

print out music pdfs

search for songs by keywords, authors, tagged words e.g. "openers", "kids"

use the CCLI helper tool to speed up recording of song usage

view a record of song usage per song
Music Manager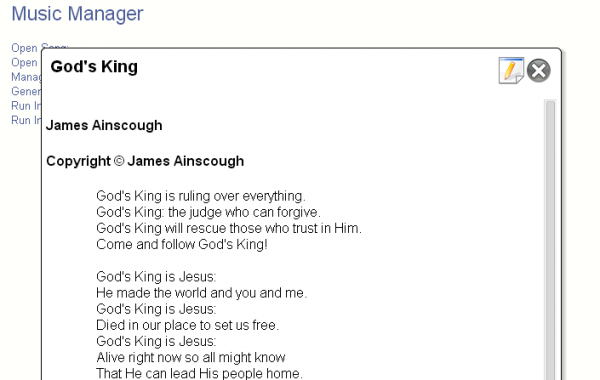 Upload your song database and music PDFs for easy service planning.
Upload and store song lyrics and sheet music (under terms of your CCLI licence)

search by keywords, author, tags

links to Service Builder for putting together service sheets and VP slides

print sheet music from home for practising before services

view record of usage per song for tracking how often it is used

generate list of song usage for CCLI report or use the CCLI helper tool for regular reporting of songs

compatible with song projection packages such as ProPresenter, Zionworx, Easy Worship, Words of Worship, OpenLP.
Meeting Planning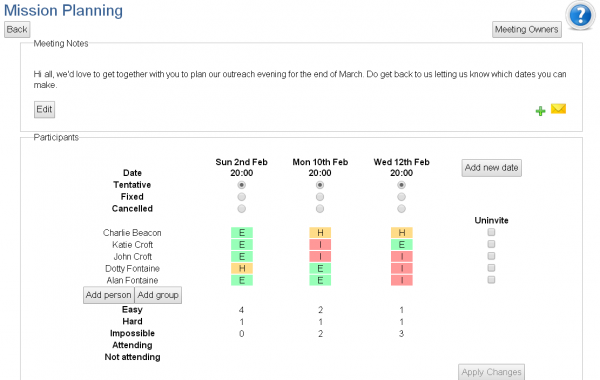 Schedule meetings with groups or individuals without having to make endless phone calls to find a consensus on a date.
Select groups and/or individuals to invite

add meeting information and upload PDFs or files (agendas, minutes etc) for invitees to access

choose a fixed date or select multiple tentative ones

email the group with the selected dates

view statistics as to which date is most suitable

email invitees to confirm the chosen date.