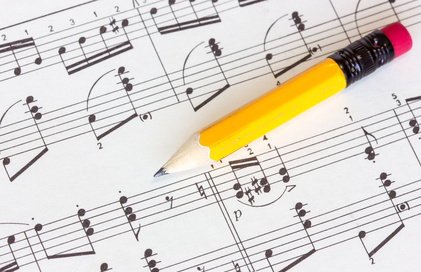 ChurchBuilder enables you to store words and music, record usage and has a handy CCLI help tool to speed up your reporting.
Music Manager
Here you can:-
store song lyrics
upload sheet music in the form of PDFs
tag songs with key words such as "kids" or "openers" to help in choosing songs for services
search for songs by title, keywords, tags or composer
keep tabs on how often songs are being used
print out the information you need for your annual CCLI report
use the CCLI helper tool to quickly report your song usage.
 Service Builder
Allows you to collaborate with other church members involved in service planning. You can:-
quickly add songs to the service plan by selecting them from your database
add notes to song choices for other service planners to see, e.g. "miss out verse 3"
generate video-projector slides and/or order of service sheets
print off sheet music for upcoming services 
export your service into one of the projection packages with which ChurchBuilder is compatible - SongPro, Propresenter, Zionworx, Easy Worship, Open LP etc.
Rotas
ChurchBuilder can help simplify organising your musicians with the online rota system. You can:-
quickly and easily create the rota online entering individuals or teams/bands
print hard copies from home for those that prefer a copy pinned up
ask musicians to volunteer, or mark themselves unavailable for dates they can't do
receive email or text reminders of duties
make use of the online swap facility which automatically updates the rota, taking the stress out of trying to arrange swaps.
 Meeting Builder
This helpful feature makes arranging practices simple. You can choose a fixed date and send out invites, or suggest tentative dates and ChurchBuilder will tell you which date works best for most people.
ChurchBuilder has made my job as music leader at our church much easier. The Service Builder section of the site means I can liaise with our clergy to plan services without needing to meet with them in person. The music database is immensely helpful in searching for songs, finding sheet music and keeping a record of what songs we sing and when. Songs can be searched for by key words or phrases which is particularly helpful when I am looking for songs along a specific theme or just simply can't remember the title. I no longer have to search through dozens of books looking for appropriate songs for each service, ChurchBuilder has saved me huge amounts of time in this respect.
The CCLI report which once was an annual headache is now able to be produced with ease saving me hours of work.
The other aspect of the site I find particularly helpful is the rota section. We have a large number of musicians helping in our 3 different congregations each week and having an online rota system to be able to organise who is helping when, is a life saver. Musicians can go onto the site and volunteer for dates that they are available as well as selecting dates they can not do. The rota is filled more efficiently and effectively in this way without endless phone calls and swaps needed.
The email reminders help ensure that no-one forgets to turn up to the week that they are on duty.
All in all I would recommend ChurchBuilder to any church as an exciting means of reducing your administrative stresses and hassles and helping you do your job more effectively.
Matthew O'Donovan, Musical Director.